September 15 - 18, 2016
NY Art Book Fair and Warehouse Sale 2016
Matthew Marks Gallery is pleased to participate in the NY Art Book Fair. At stand G01, the gallery will present a selection of recent and rare books, artist editions, and posters. A warehouse sale, featuring a wide selection of books, posters, and ephemera, all discounted up to 90%, will take place at 11-26 46th Road, just one block from the fair.

Highlights at the gallery's NYABF stand include new books on Martin Puryear, Anne Truitt, Brice Marden, Ellsworth Kelly, Ken Price, and Suellen Rocca.

The eleventh installment of the annual fair, organized by Printed Matter, will take place at MoMA PS1. Admission is $10 during the Thursday preview and free all other days.

NYABF AND WAREHOUSE SALE HOURS
Thursday, September 15, 6-9 PM (preview)
Friday, September 16, 1-7 PM
Saturday, September 17, 11-9 PM
Sunday, September 18, 11-7 PM

ADMISSION
Free and open to the public

LOCATION
MoMA PS1 is located at 22-25 Jackson Avenue (at 46th Avenue) in Long Island City, Queens, New York. The nearest subway stations are Court Square (E, G, 7, M) and 21st Street (G).

WAREHOUSE SALE
The warehouse sale at 11-26 46th Road will take place during the same hours as the fair. It will feature hundreds of books on dozens of artists, including Robert Adams, Darren Almond, Vija Celmins, Willem de Kooning, Peter Fischli and David Weiss, Lucian Freud, Katharina Fritsch, Robert Gober, Andreas Gursky, The Hairy Who, Martin Honert, Roni Horn, Gary Hume, Jasper Johns, Ellsworth Kelly, Michel Majerus, Brice Marden, Roy McMakin, Ron Nagle, Ken Price, Martin Puryear, Charles Ray, Ugo Rondinone, Paul Sietsema, Tony Smith, Anne Truitt, Rebecca Warren, Terry Winters, and many more.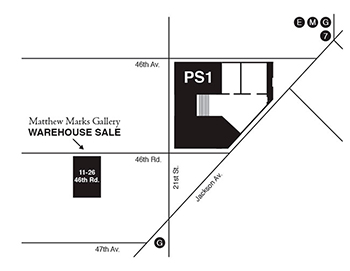 Image: Martin Puryear (2015), Anne Truitt in Japan (2016), Brice Marden (2016), Ellsworth Kelly: Photographs (2016), Ken Price Drawings (2016), Suellen Rocca (2016) published by Matthew Marks Gallery.