Inez van Lamsweerde + Vinoodh Matadin
The Now People, Part II: Life on Earth
September 16 - October 22, 2005
522 W 22 Street
Opening Friday, September 16, 2005
Press Release
Inez van Lamsweerde & Vinoodh Matadin are pleased to present a magic message: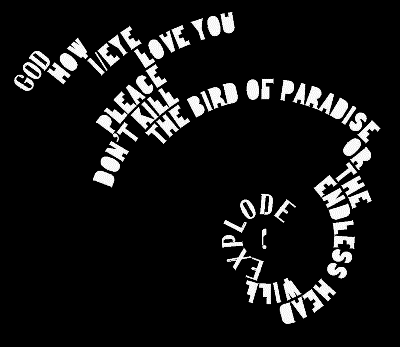 "The message and its images are inspired by those rare moments when politics and spirituality come together in a movement, a revolution, as they did in 1968 in Europe," Inez van Lamsweerde explains. "The new work is about politics as a spiritual experience that leads to a positive place. The hope that this could happen again is what this show is all about."

The exhibition, The Now People, Part Two: Life on Earth, opens September 17 and includes thirteen new photographs, each taking as its title one or more words from the above message. The pair have moved away from conventional C-prints by employing a rougher silkscreen technique and by incorporating trash and street elements—like stickers, graffiti, and scrap metal—to add to and interfere directly with the works.

Some of the works in this exhibition have been made in collaboration with Eugene van Lamsweerde and M/M Paris. With the sculptor Eugene van Lamsweerde, they produced several large-scale sculptures from industrial scrap metal, which pierce the surface of certain photographs. In another work, a sculpture obscures the visitor's view as they move through the gallery. In their work with M/M Paris, the artists have produced a large-scale poster, a t-shirt, a limited-edition artist's sticker book, and an illuminated sculpture.

The other major work included in the exhibition is an enormous collage celebrating Inez van Lamsweerde and Vinoodh Matadin's twenty year collaboration. This collage comprises over 500 works made over the past two decades. These works have been reproduced as stickers and will be affixed floor-to-ceiling directly to the wall along the entire length of the gallery. All of the images and more will be published by Steidl/7L in 2006 in a two-volume book entitled Pretty Much Everything.

The Now People, Part Two: Life on Earth will be on view at Matthew Marks Gallery at 522 West 22 Street (between 10th and 11th Avenues) through October 22, 2005. Hours: Tuesday through Saturday, from 11:00 A.M. to 6:00 P.M.

For further information or reproductions please contact Sabrina Buell at 212-243-0200.